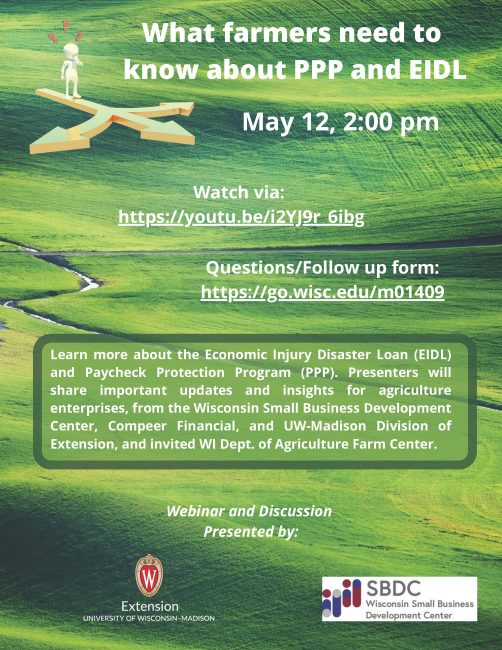 Join the Wisconsin Small Business Development Center (WSBDC) and the University of Wisconsin-Madison Division of Extension for a webinar about the Small Business Administration's (SBA) business support programs in response to the COVID-19 pandemic and its effects on small businesses. This session is specifically for farmers/farm businesses wanting to learn more about the Paycheck Protection Program (PPP) and the Economic Injury Disaster Loan (EIDL).
Program attendees can access the program via YouTube: https://youtu.be/i2YJ9r_6ibg. There is no fee or registration necessary to view the program. Any questions of the panelists can be submitted ahead of time at the following event page: https://forms.gle/3t8sXE9EXt1ifEEZ9
Kristi Smith, Business Consultant with the WSBDC, will speak to the two programs and the technical details of submitting applications. The PPP requires working with a lender with a SBA relationship. Farmers must apply for the EIDL directly through SBA's online portal. Ms. Smith will discuss how to work with these programs and how to navigate the online system. She can provide tips on the application process to lessen technical frustration.
The CARES Act and other recent legislation pertaining to the COVID-19 crisis makes available SBA financial assistance to farmers through the EIDL and PPP programs. Because of this, everyone is experiencing a steep learning curve.
The webinar will also have a panel of agricultural service providers to help answer questions about information requirements and how to fit farm financials (Schedule F information) into a small business application that usually requires working from Schedule Cs. Ty Rohloff, a lender with Compeer Financial, will be available to answer questions about how PPP can work for farmers. He will offer tips from his experience of helping process over 2,500 PPP approved applications through Compeer Financial. Tracy Brandel is a Senior Ag Program Specialist with the Wisconsin Department of Agriculture, Trade and Consumer Protection's Farm Center, is invited to provide insights on what she has learned in just over a week of fielding a variety of questions from farmers applying for EIDL just since it opened to ag enterprises on May 4. Joy Kirkpatrick, Farm Succession Outreach Specialist for the UW Center for Dairy Profitability, will moderate this webinar.
For more information contact Extension Farm Management Program Manager Trisha Wagner trisha.wagner@wisc.edu