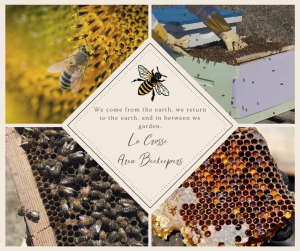 Have you ever had an interest in producing your own honey in your backyard or curious to know what beekeeping is all about? This page can help provide some basic knowledge.
The La Crosse Area Beekeepers Association has been in the La Crosse Wisconsin area for over 20 plus years, creating a loyal and friendly body of beekeepers from La Crosse and surrounding counties.
With over 50 beekeepers that raise bees for love and honey, most of our members are small scale beekeepers with 2 to 10 hives. Some members have up to 50 hives, while a few manage hundreds of hives.
Our goal is to help our members get started and to become better Beekeepers. We are here to learn and to share our experience. We rely on bees for the pollination of our plants, so please get involved! We are here to help you.​
If you are a resident of the City of La Crosse, you can familiarize yourself with keeping a hive in your own backyard using the link to the City Ordinance below. Also, check out the link to the La Crosse Area Beekeepers, a group that meets once a month to discuss current issues surrounding beekeeping in Western Wisconsin.
​Monthly:
Third Tuesday at ​6:00 PM-Business Meeting
6:30 PM – Beekeeping Education and Discussions

​Where:
​County Administration Building
212 North 6th Street, Room 0430 – Basement
​(use rear door and parking lot off 7th street – elevator to basement)
Beekeeping Resources
General Beekeeping Links