Badger Dairy Insight
Join the University of Wisconsin-Madison – Division of  Extension's Dairy Program on Tuesdays from 1 to 2:30 pm CST for the Badger Dairy Insight webinar series. These are no-cost webinars; however, participants must register before the program at go.wisc.edu/FarmReadyResearch. Featuring your local Extension Dairy Program Educators, and UW Specialists, as they present on current dairy topics. Take the opportunity to learn from and discuss with experts on the dates below. We hope to see you at one of our January programs!
January 5 at 1:00 pm CST: Feeding for Profits: nutrient digestibility and milk components
Featuring Luiz Ferraretto, UW Madison Assistant professor, and Agricultural Educators Matt Lippert and Ashley Olsen.  With discussions on optimizing the concentration and digestibility of starch, feeding for the milk check, and alternative forages. Click here to register.
January 12 at 1:00 pm CST: Preparing for Emergencies
Preparing for An Emergency will cover actions steps you can take for different types of emergencies, things that will help first responders, creating your emergency team, and help develop business continuity. Click  here  to  register.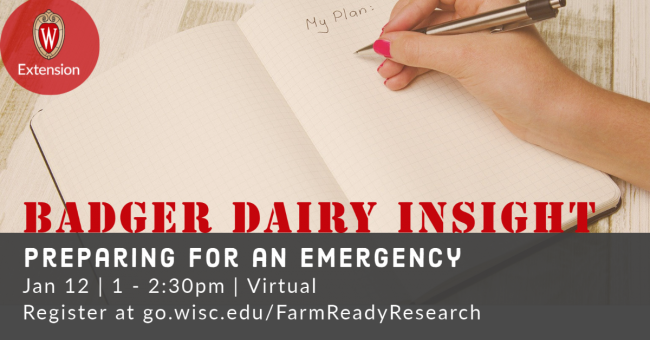 January 19 at 1:00 pm CST: Raising Them Right: Calf and Heifer Health
Featuring Matt Akins, Assistant Scientist and Extension Dairy Specialist, presenting on coccidiosis treatment study results and lessons learned and Agricultural Educator Jackie McCarville will cover ""Keeping the Calf Kitchen Clean:  A Look at Cleanliness and Sanitation." Click here to register.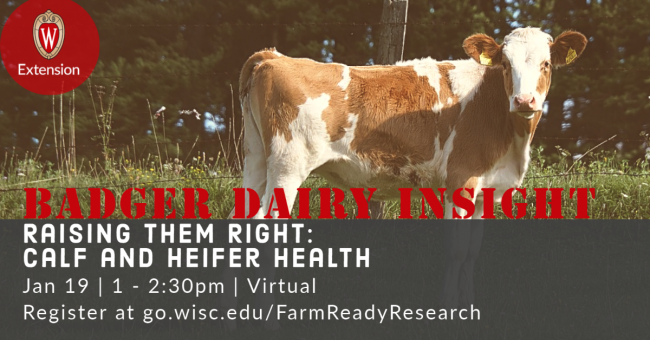 January 26 at 1:00 pm CST: Emerging Reproductive Strategies: Using IVF embryo transfer
Dr. Fricke, Professor and Extension Specialist will discuss data from recent experiment on the effect of treatment of Holstein heifers with hCG at the time of IVF embryo transfer on pregnancies per ET and pregnancy loss. Ashley Olsen, Agriculture Extension Educator will lead an interview with Jim Siporski, CentralStar Cooperative, on the availability and use of beef embryos in dairy cattle.  Click here to register.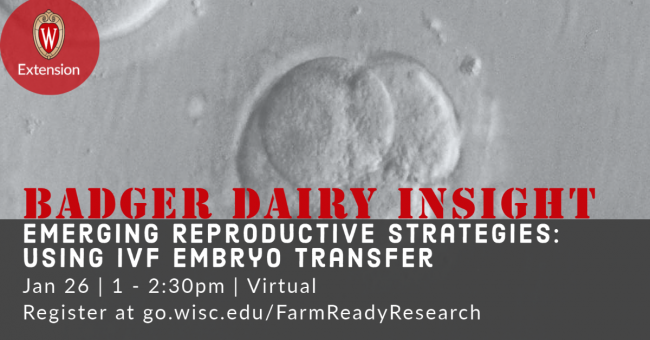 Farm Ready Research
Badger Dairy Insight webinars are a part of the Extension's Agricultural Institute Farm Ready Research winter programming for farmers and ag professionals. Join these educational webinars to learn up-to-date information on topics from dairy and livestock production to farm management resources. Sessions begin December 2020 and run through April 2021. See a full list of topics and register at go.wisc.edu/FarmReadyResearch