Does working from home have you snacking more? La Crosse County FoodWIse Educator Karie Johnson shares a guiltless sweet treat that is gluten free and only has two tablespoons of sugar per batch!
Black Bean Brownies
Makes 12 brownies
Ingredients: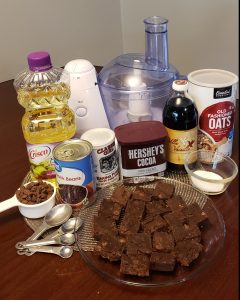 1 1/2 cups black beans (1 15-oz can, drained and rinsed very well)

2 Tablespoons cocoa powder

1/2 cup quick oats

1/4 teaspoon salt

2 Tablespoons sugar
1/4 cup vegetable oil
2 teaspoons pure vanilla extract

1/2 teaspoon baking powder

1/2 cup chocolate chips
Directions:
Preheat oven to 350 F.

Combine all ingredients except chips in a good food processor, and blend until completely smooth. Be sure the bean seed casings are completely blended. (A blender can work, but food processor is preferred for taste and texture.)

Stir in the chips, then pour into a greased 8×8 pan.

Cook the black bean brownies 15-18 minutes, then let cool at least 10 minutes before trying to cut. If they still look a bit undercooked, you can place them in the fridge overnight to firm up.