La Crosse County 4-H Shooting Sports Program
Archery & Pellet Gun Program
When: 2024 Saturdays, Jan 6 & 20, Feb 3 & 17, March 2 & 16 | 8am, 9am, 10am Sessions,
Where: La Crosse Archery (1231 Oak Forest Dr, Onalaska)
Who: 4-H and community youth, Grades 4+ for Pellet Gun, and Grades 3+ for Archery
Cost: Archery: $6 per 4-H member; $10 per Community member; Pellet Gun: $10 per 4-H member; $15 per community member (price variances due to safety insurance costs)
***IMPORTANT REGARDING ELIGIBILITY: Youth MUST be in Grades 4 and above to sign up for Pellet Gun, and Grades 3 and above for Archery. This program is open to both 4-H and community youths.***
**This year, attendance on the first day of pellet gun will be required as the safety session will only be offered on the first day, or your spot and application fee will be forfeited**
Register here:
Come take part in the annual Archery & Pellet Gun Program! Youth will start out the Program by learning safety and the basics of shooing followed by practice sessions and concluding with an inter-program tournament on the last day. If you are wanting to participate in the La Crosse Interstate Fair youth archery tournament, this is a great way to get in your safety session requirements!
This popular program fills up fast, and spots are awarded on a first-come, first-serve basis. No spots will be held without received payment in full. 4-H members must be re-enrolled for the year in 4HOnline at time of registration to be eligible for the 4-H member prices! Because extra insurances are provided, proof of a hunter's safety certification is not required for this program.
Registration is due by 4:30 p.m. on Thursday, December 28th, 2023. No late registrations will be accepted! However, walk-ins are welcome on the first day of the program for any available spots.
2023 Holmen Archery Program
When: April 16, 23, 30, May 7 and 21, and June 4
Time: 9:00 a.m., 10:00 a.m., 11:00 a.m.
Where: Arrows in the Square (N7681 Casberg Coulee Rd., Holmen, WI 54636)- OUTDOORS
Who: Youth in Grades 3+
Cost: $6 for 4-H member, $10 community member
Deadline for Registration:
Registration is closed. Stay tuned for 2024!
These sessions will be outdoors! Youth will learn safety and shooting basics with support from trained program leaders. The experienced archer will also have the opportunity to refine their skills, too. Participants will practice in a fun, engaging way with the opportunity to compete in some friendly competitions. In addition, participation in this program will help youth fulfill the safety session requirements needed to compete in the La Crosse Interstate Fair Archery Tournament. Youth do not need to bring their own equipment for the Holmen Archery Program. All needed equipment is available for use.
---
4-H Archery Invitational
The 2024 Invitational is scheduled to take place April 5 & 6, 2024!
Participants do not have to be 4-H members, nor do they have to live in La Crosse County. For youth that participated in the annual Archery & Pellet Gun Program in January through March, participation in this separate invitational is free. For all other participants, there is a $7 fee for the first event and an additional $5 fee for each even thereafter. Please contact the Extension La Crosse County office with questions at LaCrosseCounty4H@lacrossecounty.org or 608-785-9593.
Registration is not open yet – will be announced soon.
2019 La Crosse County Archery Invitational RESULTS
---
---
Pistol Shooting Program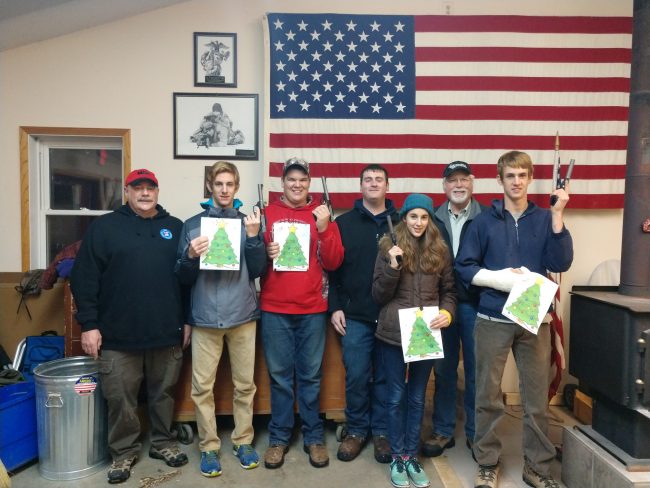 The program usually includes safety instruction, insurance, ear protection, use of Committee's Browning Buck Mark .22 caliber pistols, all ammunition, targets and use of facility. This will be the 8th time the Committee has offered this fun, safe and effective program! A team of committed and certified instructors will be present at all times to insure safe and quality instruction. Registration is filled on a first-come, first-serve basis with a class maximum of 12 (minimum of 4 to hold the program).
Due to low interest, the program has been cancelled until further notice – reach out to the office if you are interested! lacrossecounty4h@lacrossecounty.org