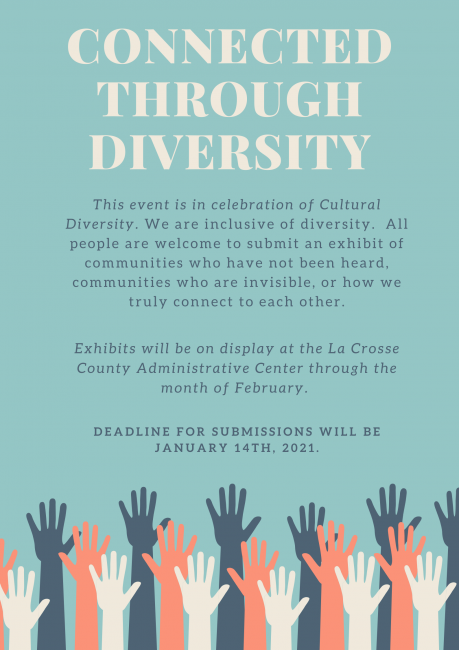 The Extension La Crosse County Office is celebrating Connecting through Diversity through a public art exhibition Monday, January 18 through Monday, March 1, 2020. In a time of polarity, everyone is welcome to submit a piece of wall art reflecting on what connects us as people while celebrating our differences.
This contest is open to people of all ages to create a piece of wall art (that can be hung) which interprets your point of view of inclusion. We're looking for creative and original exhibits to decorate the walls of the Atrium in the La Crosse County Administrative Center.  
This exhibition will be displayed from Martin Luther King Junior Day, (Monday, January 18th, 2021) through Black History Month (February). The art pieces will be categorized by age groups, 5-15, 16-25, 26-50, 51+. The public is invited to come view the exhibition and vote for the winner in each age category during the Administrative Center's regular business hours. An online opportunity to vote is on our website, which can be found below on this web page. Voting ends March 1, 2020. The winner for each age group will receive a $25 gift card to a local La Crosse BIPOC-owned business. 
If you would like to enter a piece of wall art or vote for your favorite, please click here for the Connected Through Diversity Submission Form (fillable), and bring this completed form with your submission to the Extension Office by Thursday, January 14th at 4:00pm. We will have extra submission forms in the office if you do not have access to a printer.
If you have any questions, please feel free to reach out to our office at 608-785-9593 or uwexmail@lacrossecounty.org.